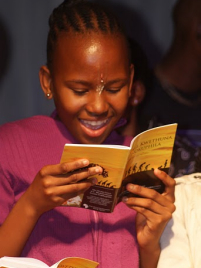 BBT Africa has published Srila Prabhupada's Beyond Birth and Death in Zulu. The book (print run: 10,000 copies) was launched at the Durban Rathayatra festival by ISKCON leaders, members of the BBT publishing team, and Zulu-speaking devotee children from Soweto.
Zulu serves as the primary language for about 10 million people, the vast majority of them in South Africa, and as a secondary language for another 16 million. Since 1994, Zulu has been one of South Africa's eleven official languages. It is written using the Latin alphabet.
Translator for the book: Akhanda Kirtana Dasa (Agricious Ngcobo). Designer: Khotso Kholopane. Production Manager: Rupa-Sanatana Dasa.
In the works: Beyond Birth and Death in Xhosa, another official South African language, spoken by about 8 million people.